Background
Click on the video icon in the heading above and watch the TERS Demo
The Minister of Employment and Labour has announced measures that the Department will put in place to contain the spread of the Corona Virus (Covid-19) and its impact on UIF contibutors.

In line with the above regulation, the Minister has announced measures that the Department will put in place under the current special circumstance relating to the Corona virus (COVID-19) and its impact on UIF contributors. The Unemployment Insurance Fund will assist affected workers through existing benefits including Illness, Reduced Work Time, Unemployment and Temporary employer/ Employee Relief Scheme (TERS) benefits. The Unemployment Insurance Commissioner, after consultation with Unemployment Insurance Fund Executive, has also developed a COVID-19 Temporary Employer/ Employee Relief Scheme (COVID19TERS) to contribute to the containment of the Corona Virus and its impact.

The following is a quick user guide on how to navigate through Ufiling to access the COVID-19 TERS Employee Benefit which assists Employees to claim UIF relief. Employee applications are for the smaller employers who employ less than 10 staff.
Home Page

For Employer Application :

System will route you to the following URL for Employers - https://uifecc.labour.gov.za/covid19/
For Employee Application :
User must login or register to uFiling.
Enter UserName and Password
Unregistered Users :
Click button to Register as New User
Registered Users :
Enter UserName
Enter Password

Login
Benefit Application and Payment
User is prompted to select Benefit Application and Payment on the left tab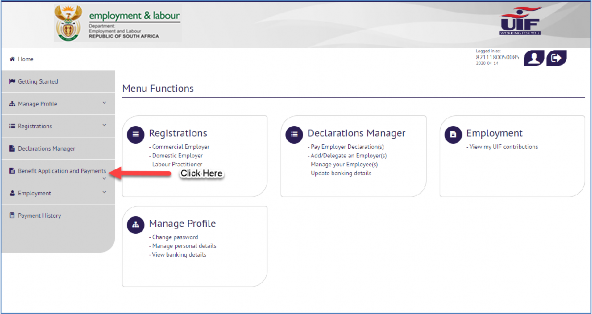 Select COVID-19 TERS Benefit
A drop down menu will appear.
User must then click on COVID-19 TERS Benefit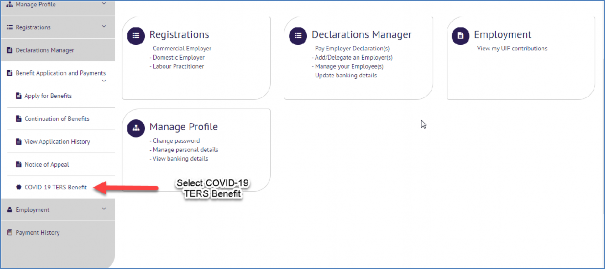 User Application
The user has two options on the drop down
Apply - which allows the user to start the application process
Application History - this allows the user to view history of Applications submitted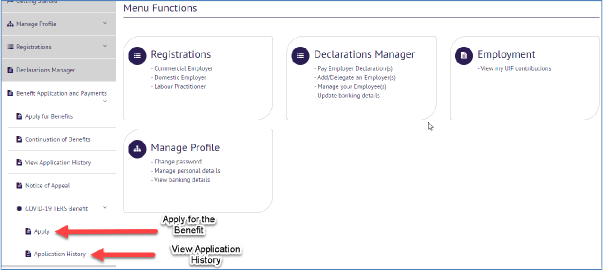 Application Criteria
The Application consists of 5 short sections
Before You Start - This tab explains the application process as well as documents that are required in order to submit
You cannot toggle tabs without completing what is required on each tab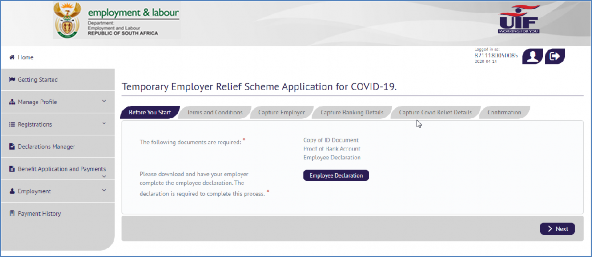 Download Employee Declaration
A user is then required to download an Employee Declaration
This will open in a separate (new) window
User proceeds by clicking Next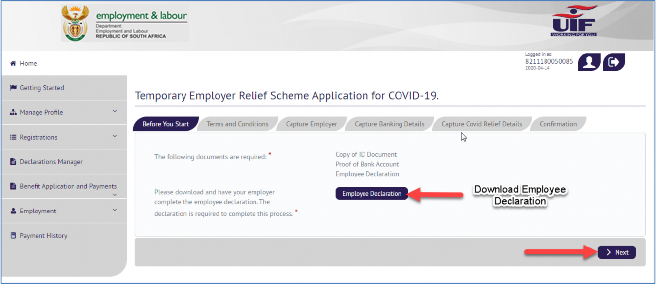 Accept the Terms and Conditions
User must then read the prescribed Terms and Conditions
Upon reading; then user checks the tick box to Accept the T's and C's
Once done, user proceeds by clicking on Next
User can click on Back to access the previous page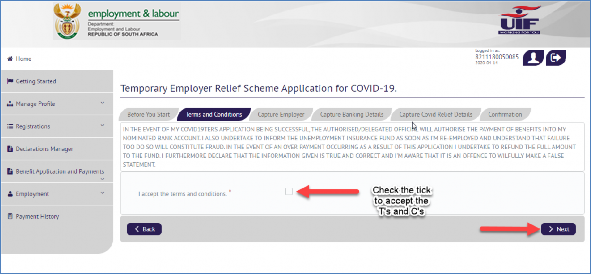 Enter Employer UIF Reference Number and Company Name
User is required to Enter Employer UIF Reference Number
User is required Enter Company Name
All fields marked with an asterix (*) are mandatory
User cannot proceed to the Next screen without all the mandatory fields
Enter Banking Details or Confirm Banking Details
New Users are required to enter Banking Details
Account holder
Bank Name
Bank Account Type
Branch Name
Branch Code
Bank Account Number
Registered Users
Confirm if Banking Details are correct
If Banking details are incorrect; user must contact the UIF Call Centre
User then clicks on Next to proceed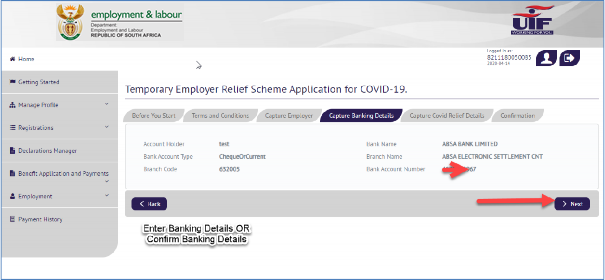 Capture COVID-19 Relief Details (Part A)
User must capture mandatory Relief Details in the fields provided below;
All fields marked with an asterix (*) are mandatory
Should the fields not be completed; user will not be permitted to proceed to the next screen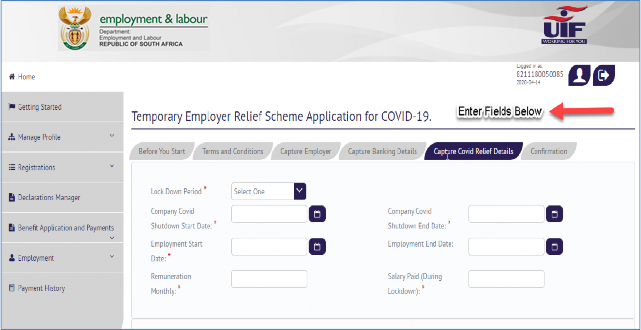 Upon completion of the mandatory fields; user must upload supporting documents
Documents must not be more than 2MB per upload
User Clicks Next to proceed to the next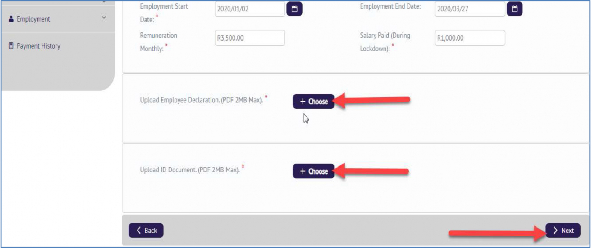 Once the documents have been uploaded; the user has an option to remove if the document uploaded is incorrect
User has the ability to go Back to the previous screen
User Clicks Next to proceed to the next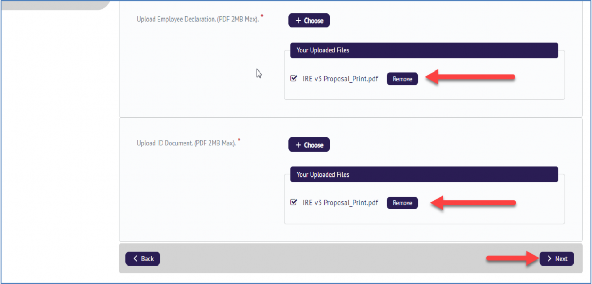 User must check tick box to give consent
Once its checked; user may submit the application
Or the User may go Back to fix issues on the previous page if required;
Once application is submitted; user will then see confirmation as per below with further instructions.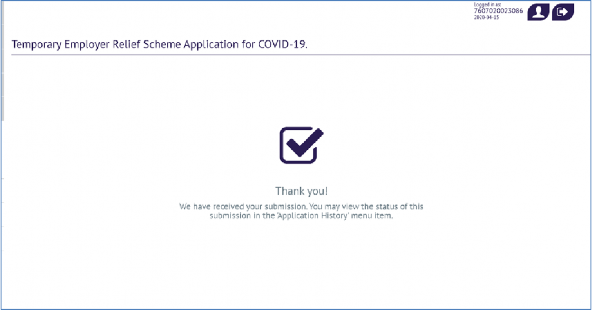 Acknowledgement Email
Upon successful submission of the Application; an email will be sent out to the user